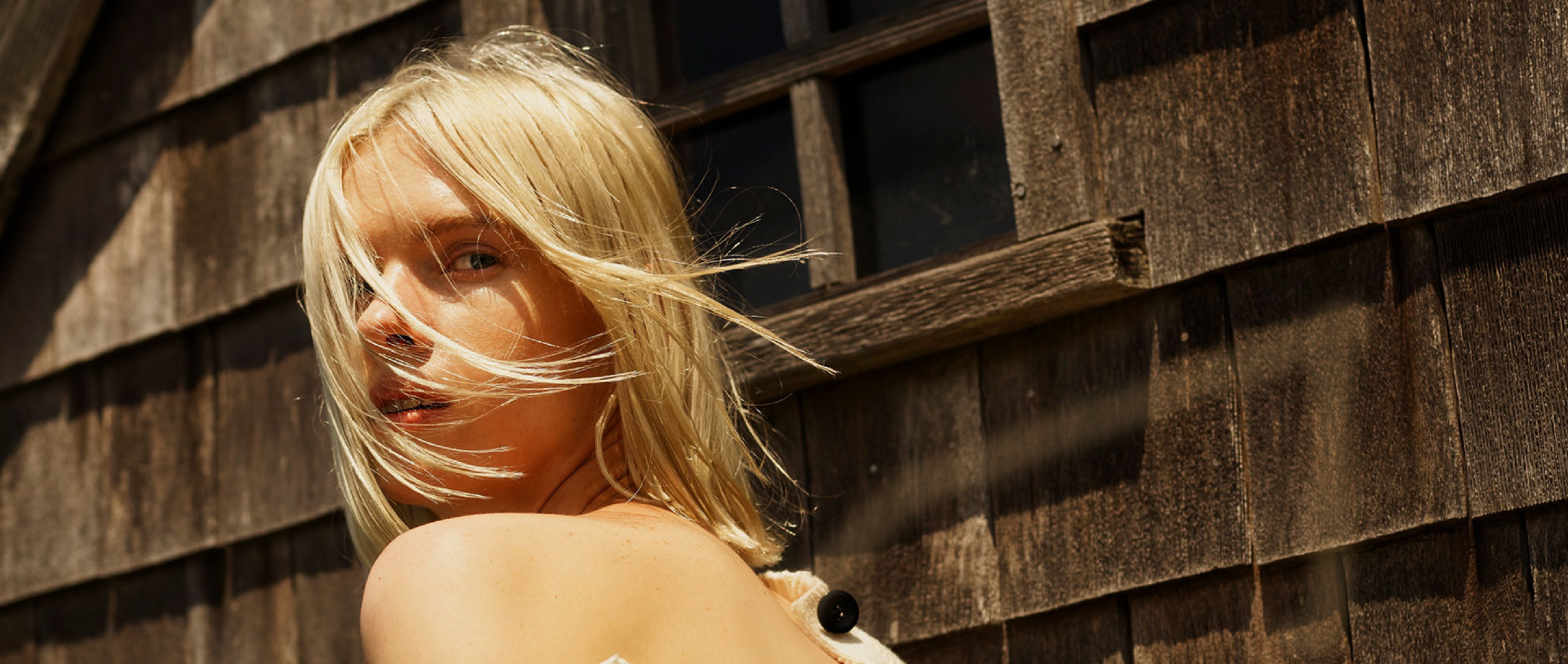 APPLE CIDER DETOX
Explore the world of a legendary
FEKKAI ingredient.
Apple Cider Detox
Inspired by Frédéric's family recipe, our Apple Cider Detox clarifying trio is a breath of fresh air for your hair and scalp.
Created to work alone or together for an even deeper clean, each of our three formulas addresses a different need. The Scrub exfoliates the scalp and removes residue, the Shampoo eliminates product and pollution build-up from hair, and the Rinse purifies while offering lasting protection.
Along the way, they replenish with an innovative combination of Apple Cider Vinegar (sustainably manufactured to minimize carbon impact) and Eco-Certified nourishing Ginger Extract for healthier, stronger, purified strands from scalp to ends. Safe for color- and keratin-treated hair, this trio is the answer for a deep-down clean for all hair types.
Our Commitment
Our cruelty-free vegan haircare is Leaping Bunny certified, meaning it's tested in our salons, not on animals. It's all part of our pledge to offer clean sustainable formulas made without sulfates, parabens, phthalates, unnecessary colorants and dyes, formaldehyde, mineral oil, sodium chloride, glutens, mineral oil, palm oil, and other undesirable ingredients that are good for you and the planet.
Level 1
Deep Detox Scrub
A deeply purifying addition to any wash routine.
Before shampooing, use this gentle exfoliator whenever your scalp feels oily or needs purification from product build-up, pollutants, and environmental residue from chlorine and hard water.
Then continue on with your usual wash routine.
Shop Now
Level 2
Deeper Clean Duo
A deeper medium-level clean for a stimulating refresh of the scalp and hair.
Step 1: Apple Cider Detox Scrub
Begin your cleanse at the root with this gentle, creamy scalp exfoliator.
Step 2: Apple Cider Detox Shampoo
Continue your purification with this detoxifying, nourishing and non-stripping protective cleanser.
Follow with your favorite conditioner.
Shop Now
Level 3
Deepest Clean Trio
The highest level of clarification for daily product users or those in high-pollution areas.
Step 1: Apple Cider Detox Scrub
Begin your cleanse at the root with this gentle, stimulating scalp exfoliator.
Step 2: Apple Cider Detox Shampoo
Remove impurities and build-up on the hair with this non-stripping protective cleanser.
Step 3: Apple Cider Detox Rinse
Get an ultra-clean finish with this sealing, detoxifying, and smoothing detangler.
Shop Now
The FEKKAI Apple Cider Vinegar Story
Frédéric has a rich history with the ingredient at the heart of this trio, having learned about the purifying and shine-boosting powers of Apple Cider Vinegar growing up in Provence in France, where his mother would wash his hair in the sink with his grandmother's rinse recipe.
Years later, the ingredient became an integral part of the FEKKAI story when he debuted his celebrated cult-favorite clarifying collection in 1995. This modern re-envisioning of his original formula maximizes the power of this star purifier with innovative clean and sustainable ingredients that provide the ultimate clean.
More Good-for-You Ingredients
The heroes that give our Apple Cider Vinegar a boost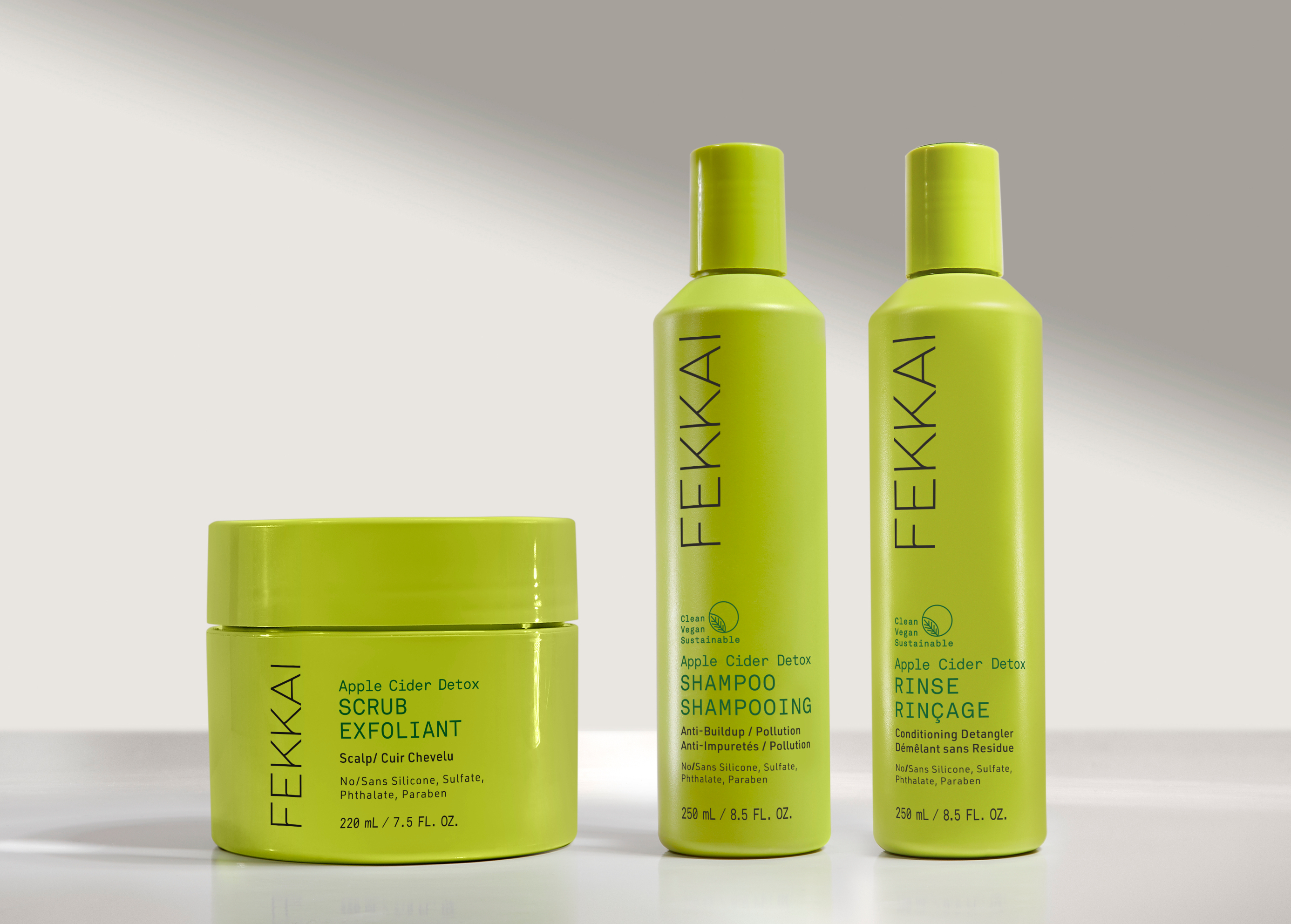 Yes. All our Apple Cider Detox products are formulated to work on hair that is chemically and color-treated.
Yes. This collection was formulated so it can be used as a full 3-step system or incorporated into your regular hair care routine as you prefer.
Yes. Thanks to balancing ingredients like Salicylic Acid in our Apple Cider Detox Shampoo, this system helps to regulate oil production.
Our Detox products do not help with hair loss, however, they do stimulate the scalp and increase circulation to grow healthier hair.
More innovative ingredients that are cleaner and sustainably sourced. And with the addition of a scalp scrub, this 3-step system offers an even deeper clean that allows for purification from roots to ends.
THE DETAILS OF OUR IN-SALON TESTING PROCESS:
0
Months of Weekly Salon Testing
0
Total Test Subjects Per Trial